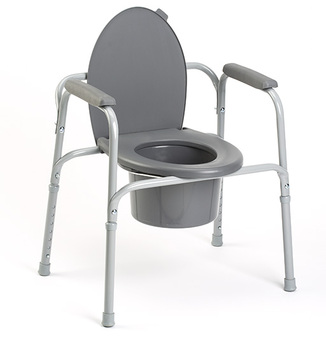 Deluxe All in One Commode (Covered by Insurance)
• NEW! - Elongated Seat
• 1" grey powder coated steel
• Snap on seat and lid
• Three versatile functions
• Includes bucket, lid, and splash guard
• Adjustable height
• Fully assembled
• Warranty: 2 years on the frame
Seat 14" x 16"
Width Between Arms 19"
Overall Width 25"
Seat to Floor Height 16" - 22"
Weight Capacity 350 lbs.


---
---
CareBag Commode Liner with Super Absorbent Pad, 20 bags per box | Aways in stock at Seventh Street Medical Supply | Get yours today!

Avoid soiling of commode: never clean a pail again
The super absorbent pad turns up to 16 oz of body fluids into a gel: no more spills or splashes!
No more unpleasant odors once liner is sealed
Improves comfort for patient, caregiver, and family members

---
---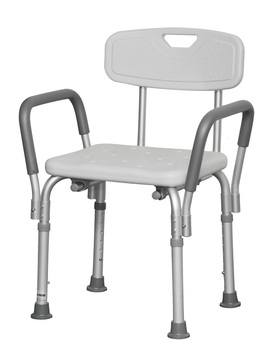 Bath Bench with Arms
• Removable padded armrests provide comfort and added security.
• Blow molded bench and back provide comfort and strength.
• "Flow Thru" drainage holes in bench reduce slipping.
• Lightweight Aluminum frame is durable and corrosion proof.
• Tool free assembly.
• Legs are height adjustable to accommodate large and small individuals.
• Warranty: 2 years on the frame
Weight capacity is 300lbs
Product wgt is 7.7lbs
Seat width 16 inches
Seat depth 13 inches
Seat to floor adjustments 15" to 20"
Between arms 19 inches
Foot print 17" by 14.5"


---
---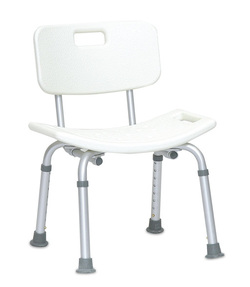 Bath Bench With Back
• 1" Anodized aluminum frame
• Legs angle outward to resist tipping
• Blow molded plastic seat and back w/drainage holes & built-in handles
• Adjustable height 14" - 19"
• Available with or without back
• Tool-free assembly
• Warranty: 2 years on the frame

Measurements Leg Span: 17" x 17"
Height Adjustment 14'-19" Adjustable
Weight Capacity 300 lbs.


---
---
Elevating Locking Raised Toilet Seat With Padded Arms

The Locking Raised Toilet Seat with Padded Arms elevates most toilets by 5 inches. It locks into place with a simple front turning clamp and also includes removable side arms for additional stability when rising or lowering. This seat features a wide contoured surface for maximum comfort and fits most toilet bowls 11 to 14 inches long.
---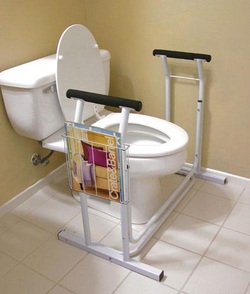 Toilet Safety Support Deluxe Toilet Safety Rail.
Attractive powder coated steel

Foam-padded handles
Slip-resistant feet and Magazine holder

24" between handles, 26.5" wide * 26" high
Weight capacity: 300 Lbs | $59.95

---
---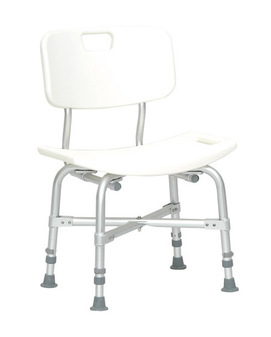 Bariatric Bath Chair w/Back ProBasics #401
• Comfortable, blow-molded seat w/integrated handles for additional support
• Height adjustable from 16.5" to 20.5"
• Dual cross brace for extra stability with extremely durable welds
High-strength, aluminum frame to prevent rusting
• Aircraft rivets will not loosen
• Seat is 20" x 12"
• Completely assembled
Overall Width 18" x 17.5"
Weight Capacity 550 lbs.




---
---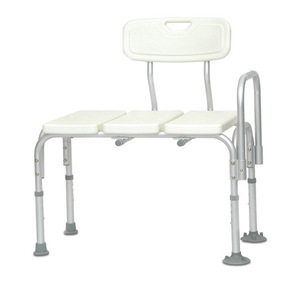 Transfer Bench with Back #417
• Tool free assembly
• Lightweight aluminum frame
• Height adjustable from 18" to 23"
• Soft cushioned seat and back rest
• Large suction cup feet
• 300 lbs. weight capacity
• Warranty: 2 years on the frame

Seat 27"W X 16"D
Width Between Legs 16.5"D Outside Legs
Length Between Legs 29.5"W Outside Legs




---
---
Drop Arm Commode #413
• 1" Grey powder coated steel
• EZ Release drop arm allows for safe side transfer
• Adjustable height from 17" to 22" seat to floor
• Removable back rest
• Soft hypolon armrests
• Snap-on seat with lid
• Bucket with lid and splash guard
• Tool-free assembly | Overall Width 24"
• 300 lbs. weight capacity
• Seat 14" x 16" | Width Between Arms 18.5"




---
---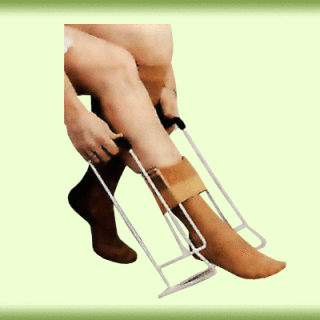 Rose Healthcare EZ-Pull Hosiery Aid #3148
Rose Healthcare Easy Pull Hosiery Aid #3148
Easy Pull Hosiery Aid has unique design which can be used for compression hosiery, socks, panty hose, etc. Made of sturdy, smooth plastic coating over steel. Place hosiery over contour column and insert foot, pull up on handles.
---