This Little Cpap Just got even better. Check out the new
Transcend Auto Travel CPAP Machine with EZEX @ Seventh Street Medical Supply
---
The Transcend sleep apnea therapy system begins with our Starter System. Everything you need fits in one compact bag.
In Stock!
Included in the Starter System:
Transcend Auto CPAP System with EZEX feature, Universal Hose Adapter, Standard 6-Foot CPAP Hose, Universal AC Power Supply, Travel Bag, Printed Quick Guide, User Information CD, 2-Year Manufacturers Warranty.
Always in Stock at Seventh Street Medical Supply..
Seventh Street Medical Supply, Inc | Retail Price
$629.99
Our Price: $529.00 - Our price includes programming & Setup
---
---
The Transcend Auto Travel CPAP Machine with EZEXThe Transcend Auto with EZEX is the smallest, lightest, most portable Auto CPAP in the world and is the first and only fully-portable, fully-powered, and fully-featured CPAP system on the market. Weighing less than one pound, Transcend fits in the palm of the hand making it ideal for travel and for every night use at home. The Transcend Auto with EZEX is a fully-featured Auto-Pressure CPAP that provides pressure relief on exhalation with EZEX pressure relief technology.
Unique air bearing blower technology makes Transcend EZEX quiet and vibration-free. Transcend can deliver vibration-free therapy at a quiet 29 dB sound pressure level. Transcend automatically adjusts for altitude up to 8,000 feet. AHI and leak detection reporting is standard, so users know the therapy is working night after night.
Compatible with All Masks.
Automatic pressure addjustments
Smallest and Lightest CPAP Machine
Quiet adn Vibration Free
The EZEX feature delivers a drop in pressure during exhalation to make the breathing more natural.
Auto Altitude Adjustment
Battery Ready CPAP Machine
---
---
---
Welcome to the world's most innovative CPAP power systems.
We are not a click & ship operation. We are open to the public and explain, set-up and warranty all of our equipment.
---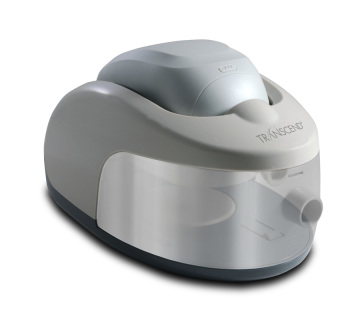 New! Transcend Heated Humidifier
The new Transcend Heated Humidifier is a water-based humidifier unit that fully integrates with the Transcend CPAP system to provide warm, moist air during therapy to enhance patient comfort. This unit features a small footprint and five adjustable heat settings in a sleek, stream-lined design that stays true to the brand's reputation for compact size and portability that fits the lifestyle of active patients
CALL NOW FOR A GOOD NIGHT SLEEP!