Doctors Rx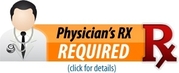 SUBMITTING YOUR PRESCRIPTION
Your Prescription can be submitted to Seventh Street Medical Supply in 3 ways:

1. Scan it and e-mail to info@seventhstreetmedicalsupply.com
2. Fax To: +1 (215) 396-2454
3. Mail To: Seventh Street Medical Supply
307 E. Pennsylvania Blvd.
Feasterville, PA 19053

If your Rx is already on file with us, just let us know in your notes with payment. If an item is purchased we will wait until your Rx is received before shipping.


---