Don't settle for what's in your doctor's closet...
We own a 4,000 square foot warehouse full of medical supplies


Plantar Fasciitis Night Splints | Covered by Most All Major Insurances | Always in Stock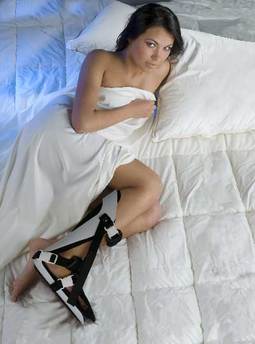 Night Splints are used during rest to provide a mild but constant stretch of the Achilles Tendon and the Plantar Fascia of the Foot. Used for Plantar Fasciitis & heel spur syndrome.
Many people who suffer from Plantar Fasciitis, have severe pain in the morning when they first get out of bed. These devices prevent this tissue from tightening at night.
Stop by Seventh Street Medical Supply to see and try on the different model Night Splints that are available. Don't just settle for what your doctor pulls out of his closet.
Indications:
Plantar Fasciitis
Achilles Tendonitis
Drop Foot
Post-Static Pain
---
---
HealWell® Cub™ Plantar Fasciitis Resting Comfort Slipper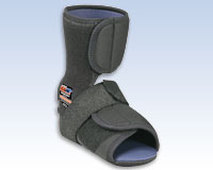 Comes in right or left. Color: Black.
A night splint actually comfortable enough to sleep in! Made of cool, breathable foam material, this Plantar Fasciitis night splint is lightweight with less bulk than other night splint devices for superior comfort. The inner shell provides lateral side support with an opening at the ankle to prevent irritation on the sensitive ankle bone. An adjustable hinge adjusts the amount of dorsiflexion from 0 to 10º, and a built-in toe wedge gives an additional 5º plane for even greater stretch across the plantar fascia. Easy and quick to apply and comfortable enough to sleep in.

---
---
Posterior Night Splint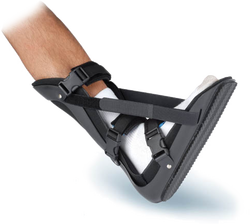 Bi-lateral straps easily adjust flexion.
Provides for comfortable and gradual stretch of the plantar fascia and Achilles tendon.
Dorsi-flexion can be adjusted off of 90°.
Soft lined interior is breathable, comfortable, and is washable.
Straps are padded for comfort across the dorsum of the ankle.
Easy release buckles are simple to use.
---
---
Dorsal Night Splint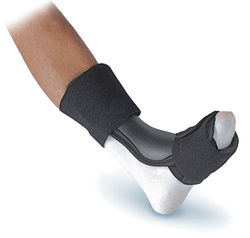 Compliance ensured!
Light weight and slim design improves compliance.
Effective treatment for Plantar Fasciitis, Achilles Tendonitis, and other soft tissue injuries.
Easy to apply and adjust.
Lowers inventory, comes in just 2 sizes fitting either foot.
---
---
Introducing The Hybrid Night Splint


Fully adjustable tension strap.
Hinged shell design for adjustable functionality.
Holds the foot in place securely.
The arcticulating hinge design allows for full range of adjustable settings.
Provides superior comfort and unparalleled function.
Extremely well padded for superior support.
Non skid sole for improved ambulation.

---
---