Mobility Scooters by Golden, Invacare, Pride & Drive Covered by Most Major Insurance Plans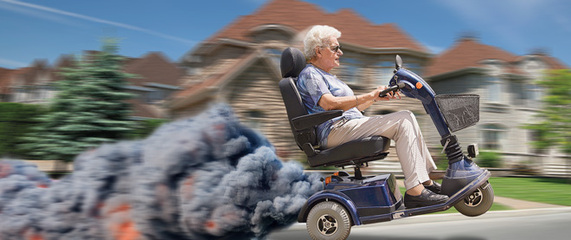 INSURANCE COMPANIES CONSIDER REIMBURSEMENT BASED ON INDOOR USE
We are not an internet drop ship center. All of our equipment is delivered and fully explained by our trained staff. We stand behind everything we sell and maintain all equipment ourselves.
Mobility scooters are designed for people who have some mobility but are challenged by slopes or distances. We offer a wide variety of mobility scooters to fit your needs. Leading manufacturers such as Golden, Invacare, Pride, and Drive Medical provide quality scooters that come in a number of styles which can accommodate a wide range of user needs. When selecting a mobility scooter one should consider where the scooter will primarily be used (indoor, outdoor or both), how often the scooter will be transported in a car and any specific seating / accessory needs.
Most mobility scooters are defined by four features which separate them from power wheelchairs: Scooters are directed by a tiller at the front of the base that can steers the front wheel. This arm can be tilted and locked allowing a safe and comfortable ride for all users. Forward and reverse motion is controlled by two thumb levers. The seat of scooters is usually mounted on a stem, allowing many scooter seats to rotate from side to side. Finally, scooters have a base board instead of footrests. Scooters are steered using a tiller, you need sufficient arm strength to drive it and thumb mobility to use the controls. Seventh Street Medical Supply can walk you through the process of finding the right mobility scooter to fulfill your needs. Below is just a couple scooters that we stock that we believe are dependable and reliable.
---
---
"We are not an internet scooter store. We have a place of business to come and try out our power mobility products. We care about our customer's/patient's needs & lifestyle.. Andy Scolnick, President - Seventh Street Medical Supply" (Model shown BuzzAround XLS)
---
Buzzaround EX 3-Wheel

by

Golden Technologies

(Model No.

GB-118

)

The EX is the fastest Buzzaround yet with an extended drive range and great ground clearance. In stock at Seventh Street Medical Supply. Stop in for a test drive!

'EX' stands for extreme and the Buzzaround EX 3-Wheel travel scooter by Golden Technologies certainly lives up to its name. The Buzzaround EX is the fastest model of the Buzzaround family and it definitely goes the extra mile. If you need a heavy-duty yet convenient travel scooter, the EX is the way to go.

What Makes This Different

The Buzzaround EX goes up to 5 miles per hour and has a drive range of up to 18 miles on a single charge, leaving other travel scooters in the dust. The EX gets its oomph from its dual U-1 batteries which enable it to go faster for longer distances. The EX has durable 9" front and rear wheel tires that raise the deck of the scooter enough to have a generous 4" ground clearance, and features front and rear suspension, which means you can tackle a variety of terrains.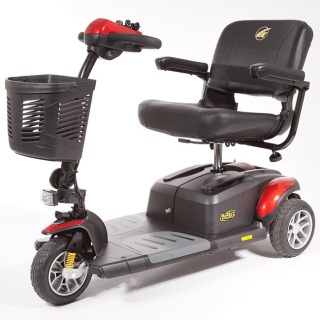 Buzzaround EX 3-Wheel | Made in USA | In Stock!
The EX is the fastest Buzzaround yet with an extended drive range and great ground clearance.

Extended, 18 mile drive range
Max speed of 5 mph
Front and rear suspension
Stadium-style height-adjustable seat
Extra bright LED headlight
Red and Blue shroud panels included
Top Speed: 5.00 Mph
Drive Range: 18.00 Miles
Heaviest Piece: 48 Lbs.
Weight Capacity: 330 Lbs

​

.
---
---
Golden BuzzAround XL | Made in USA | Covered by Most Major Insurance Plans | Always In Stock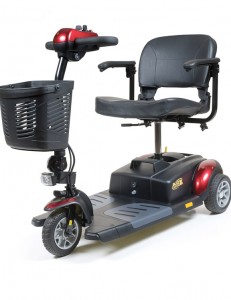 Buzzaround XL 3 Wheel – GB117D
BUZZAROUND XL SERIES

The Buzzaround XL offers more standard features to make your riding experience better than ever. Featuring a wraparound Delta Tiller, a new LED battery gauge, and a new ultra bright LED angle-adjustable headlight, the new Buzzaround XL is also longer to offer more footroom, with a great turning radius. The Buzzaround XL disassembles in seconds with just 4 easy steps making transporting it from one destination to another a breeze!

My favorite scooter is the BuzzAround XL because how Easily it folds and is ready for transport, these scooters are perfect for the active person who likes to travel. Andy Scolnick, President, Seventh Street Medical Supply.

---
ALL BUZZAROUND XL FEATURES:

• Weight capacity up to 325 lbs.
• Max speed 4 mph
• Delta Tiller with Wraparound Handles
• Ultra Bright LED headlight standard
• Charging port below the control panel
• Red and Blue Shroud panels included
• Disassembles quickly and easily for transport
• Larger, non-slip deck provides more foot room
• LED Battery Gauge
• Plush, 17" x 16" stadium-style seat


Richard Kiel (September 13, 1939 – September 10, 2014) the famous actor best known for his role as Jaws in the James Bond franchise, the 90's cult classic Happy Gilmore and his last movie as the voice of Vladimir in the Disney Movie Tangled. We lost Richard on September 10, 2015. The Golden LiteRider are always in stock at Seventh Street medical Supply.

---
Golden LiteRider | Full Size yet Portable | Made in USA
The three-wheel LiteRider scooter from Golden features better range, a Delta Tiller standard, more attractive styling and more vibrant colors. A modern tubular frame design supports its 300 lb. weight capacity, and its completely wireless disassembly makes transporting a breeze. The LiteRider GL-110's 9-inch, black low-profile tires are mounted on high-strength steel rims with shiny hubcaps. Its plush, deep-black vinyl stadium style seat comes with adjustable armrests and a full 360-degree swivel mechanism for getting on and off the scooter easily. You will also appreciate our two storage baskets, one on the tiller and one under the seat. A true beauty, the LiteRider scooter is available in deep shades of red and blue.
Suggested Retail: $2,139.00 | Our Price $1,295.00

---
---
Golden BuzzAround LT GB107 | Compact Travel Scooter | In Stock for Immediate Free Delivery
MODEL: GB107
This Buzzaround LT scooter is the smallest, lightest, and most portable Buzzaround scooter, however, it has a weight capacity of 300 lbs. and increased foot room. The new Buzz LT also has a charger port in the delta tiller, a new hard plastic rugged basket, updated black wheels and a plush, padded seat. Additionally, the Buzz LT comes with a lifetime warranty on the frame, a two-year warranty on the drive train and electronics, and comes standard with a one-year warranty on the batteries. Enjoy its tight indoor maneuverability and smooth outdoor use with 3″ of ground clearance!

---
The Companion Midsize 3-Wheel scooter will take you the places you've had trouble getting to. Ideal for trips to the mall, dining out or an afternoon at the park, this midsize scooter provides great style with high performance and easy disassembly. Features include an adjustable LED headlight; an ergonomic control panel design with a backlit battery gauge display; and a wraparound Delta tiller for easy steering. With a weight capacity of 300 lbs., a maximum speed of 4.5 mph and a range of 15.5 miles, the Companion GC-240 offers great value in a full-time portable scooter.
List Price: $2,735.00 | Our price $1,695.00 | Comes in Red or Blue

---
---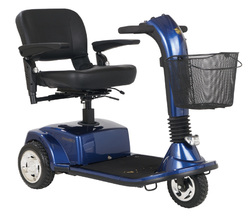 The Companion GC-340 scooter offers more legroom and foot room with a wider front deck and a stylish new design. New features include easy disassembly; an adjustable LED headlight; an ergonomic control panel design with a backlit battery gauge display; a wraparound Delta tiller for easy steering; and an optional power-elevating seat. With a weight capacity of 350 lbs., a maximum speed of 4.5 mph and a range of 16.5 miles, the Companion GC-340 is the ultimate value in a full-time portable scooter.
Suggested retail: $2,495.00 | Our Price $1,895.00 | Comes in Red or Blue


---
---
We Are Not A Drop Ship Company! We Service Everything We Sell
---
Click Our Manufacturer's Logos Below
To View Their Full Line of Power Electric Scooters