Should you live within our demographic service area we offer POC's through most all insurance carriers.
We also rent and sell to the public. Call us or stop in today! There are a million companies on the internet claiming they have the lowest prices…… But, "nobody beats our knowledge or service, PERIOD"..
Andy Scolnick, President of Seventh Street Medical Supply

The

SeQual Eclipse 5

, updating technology that the SeQual Eclipse 3 featured. Since SeQual released the first Eclipse over six years ago, they have been one of the staples in the industry, updating and improving on their previous portable oxygen concentrators and Andy Scolnick, President of Seventh Street Medical Supply expects the same for the SeQual Eclipse 5. Our eclipse 5 units have arrived and are in stock!
---
SeQual eclipse 5 is Here and in STOCK!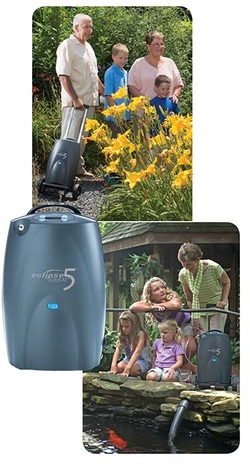 The NEW SeQual Eclipse 5:
The Most Robust and Reliable POC on the Market.
The new generation of SeQual Eclipse raises the bar for POC performance. The Eclipse 5 features the same benefits that you love about the Eclipse 3, but with next generation internal components that enhance the reliability of the POC. The Eclipse 5 goes where you go, with improved DC power operation that allows for full functionality of the Eclipse 5 when running from DC outlets. All continuous flow settings, up to 3 LPM, as well as all pulse flow settings, including the largest super setting of 192 mL, are available while operation on DC power. Andy Scolnick, President of Seventh Street Medical Supply, believes one of the best features on The Eclipse 5 is the battery will also charge while the unit is connected to DC power, which eliminates any anxiety of failed batteries on long road trips.
The Perfect O2 Solution for Low-Mobility Patients:
Most patients not only require oxygen at home, but also on the go – SeQual Eclipse acts as both a stationary and portable unit to meet these needs. Some patients have low and limited mobility, but the SeQual Eclipse gives them peace of mind and the freedom to enjoy life at a moment's notice. Eclipse is lightweight and easy to maneuver by use of the universal cart with telescoping handle. This reliable unit keeps up with the various activities of daily living while providing the individualized oxygen prescription. The SeQual Eclipse is the best solution for patients with higher clinical oxygen needs, but also for those whose ambulatory activities are limited to moving from the house to the car so they can visit the doctor
or friends and family.
FEATURES
NEW: All continuous flow and pulse dose volumes available while operating on DC power
NEW: Battery cartridge will re-charge when unit is connected to DC power
NEW: Next generation internal components enhance unit reliability
Approved for Rx of 0.5 - 3.0 LPM continuous flow
Pulse Dose volumes from 16mL to 192mL
autoSAT Technology helps maintain a consistent FiO2 by servo-controlling the device to meet the patients changing respiratory rate.
Three available rise time options—Fast, Medium, and Slow
Three Adjustable Pulse Dose sensitivity settings
Innovative Universal Cart design allows for easy access to battery
AC and DC adapters that are smaller in size, yet more durable
In Pulse Dose Mode, if an inspiratory effort is not detected, the device will deliver a continuous flow of oxygen; continually searching for a breath every 15 seconds
---
---
---